Morgana Justina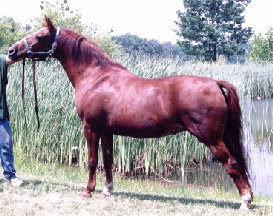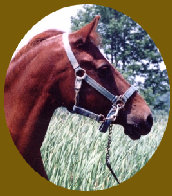 Gail's Sun Raider x What A Lady
foaled July 12, 1976
passed into the arms of Jesus on April 13, 2009
chestnut mare 14.1 hands
"Hollie" was our very first Morgan. We purchased
her at the age of 9 months in April 1977. She took
top ribbons in pleasure driving, in hand and
western pleasure, by the age of 5, then proceeded
to have 8 colts for us, mostly by
World Champion Stallions.
She was the ONLY maternal sister
to multi World Champion Park
and Parade Horse,
Morgana's Westwood.
photo June 2000 at 24 years old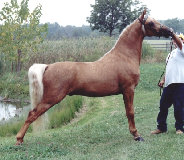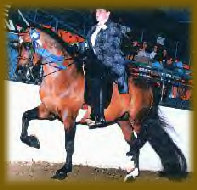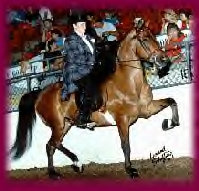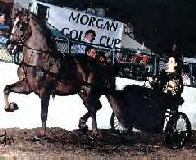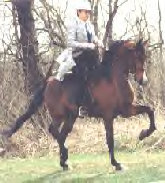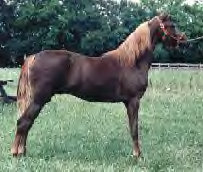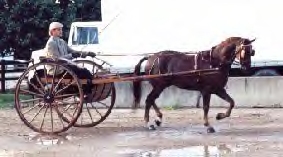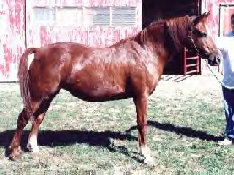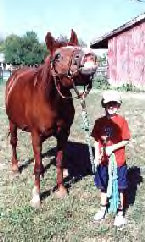 Stallion, foaled 1982
"PL Overnite Sensation"
by World Champion
Whit Aker's Sensation
Gelding, foaled 1984
"Nitetime Celebration"
by World Champion
Whit Aker's Sensation
Gelding, foaled 1985
"PL Just Sensational"
by Whit Aker's Sensation
Gelding, foaled 1987
"PL Just Grande"
by World Champion
Heartwood Rio Grande
gelding, foaled 1993
"Sail On Spirit Command"
by In Hand Champion
Sail On Command
stallion, foaled 1994
"Sail On High Command"
by High Point In Hand Champion
Sail On Command
Gelding, foaled 1995
"Morgana Xanadu"
by Champion
Morgana Marquis
Gelding, foaled 1997
"Wings As Eagles"
by palomino stallion
K Woods Golden Eagle
Hollie at 6 months in foal, Sept. 2001.
Doesn't look too bad for an old pregnant lady!!
Hollie obviously thinks something
is pretty funny around here!
My 5 yr. old Nephew, Tristan
is leading her.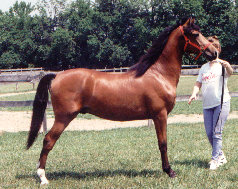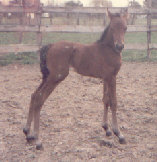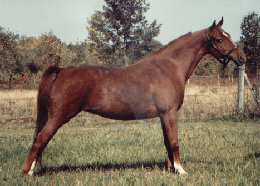 "Hollie" and me, at the Gold Cup
in 1981!!
"Hollie" at age 10 or 11.
FIVE GENERATIONS OF MORGAN HORSES
PRODUCED AT
PROMISED LAND FARM!!!!!!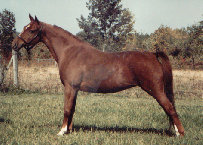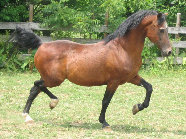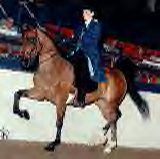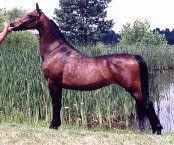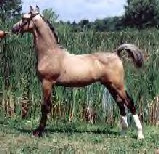 Morgana Justina, foaled in 1976.
Our first Morgan Horse.
Bred to Whit Aker's Sensation, she produced
PL Overnite Sensation, in 1982.
Nite, bred to Miss Sugarfoot, she produced
PL Precious Moment, in 1986.
Precious bred to Immortal Command, produced Immortal Blessing,
in 1995.
Blessing, bred to MEMC
Tequila Quervo, produced
PL Chosen For Glory,
in 2001.
Not bad for 23 years in the breeding business, huh????
This is Angel's Rare Gold,
the sire of "Hollie's"
2002 colt!!
PL Rocket's Red Glare
Hollies last foal Foaled March 3,2002 at 6:35 PM
Chestnut colt
Star with connected
narrow strip, widening
into blaze, narrowing
into snip between nostrils

Left front sock, left hind sock, right front pastern.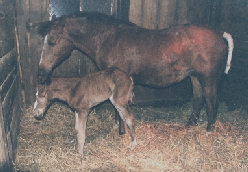 Still wet and trying to figure out his legs at 30 minutes old!
SOLD!
Is he cute or what???
Standing at one hour old. Mom sure looks
great for 26 and NINE COLTS!!
Below are pictures of "Hollie's" foals over the years!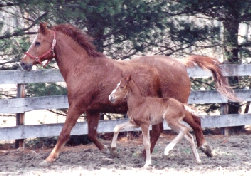 Rocket and mommy at 1 1/2 weeks old.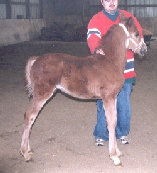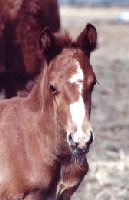 These pics taken of our handsome boy,
Rocket,
at 4 months old.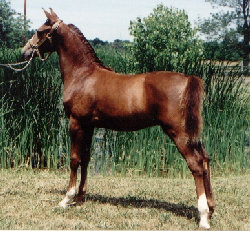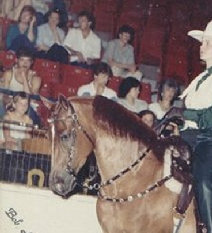 VERY SAD NEWS...We lost Hollie to a severe impaction colic and nothing could be done.
IN the end, she gave me one final gift. I asked her to let me know when she was "done",
I wanted to know at the end we couldn't do anything to help her,
and I wanted to be with her when she passed away.
After THIRTY TWO YEARS together (exactly to the month!) there was no way
I wanted her to go alone, without me to hold her
and kiss her and tell her she was
THE BEST MORGAN HORSE. THE BEST HORSE EVER.
She wasn't a horse. She was my sister. My family.
She will be sorely missed.
Rest in peace my sweet girl. Until we meet again in those heavenly green pastures.
I can't wait to see you again! Hollie, I am EVERYTHING I am in MORGAN HORSES, because of YOU! :*)
NINE foals Hollie gave us. NINE COLTS. Never a filly in the bunch. BUT her great great grand daughter was born the night after we lost her. Somehow I know Hollie sent her to relieve some
of our grief. Thats just the kind of horse she was. :*)
Boomer, bred to
Northerly Haleys Comet,
produced
PL Bound For Glory,
in 2005.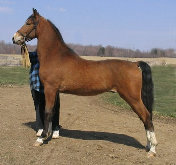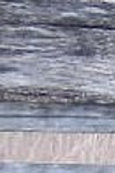 PL Precious Blessing..Hollie's great great grand daughter was born
the night after we lost Hollie. Somehow I know she was sending us
a beautiful baby to bring some joy into out sorrow. It was just like
Hollie to do something like that. :*)
CLICK on the pic to go to her page.