It all started when we bought our first horse in 1974 and our first Morgan in 1977.
We have been breeding, showing, training,and loving Morgan Horses
for 32 years. We have consistantly bred our mares to World Champion Stallions,
and shown our horses to top ribbons all over the country since the very beginning.
In the last ten years, we have pursued the "colorful" Morgan, and have taken top ribbons and championships with our beautiful golden palominos and buckskins, at the Class A, Regional and the National level.
At Promised Land Farm, we treat each rider and owner like part of the family
and the horses as individuals with personalities and abilities all their own.
We create a lesson and training program just for the needs of the horse and rider
for the Class A show arena to state wide 4H competition. We have taught and trained English Pleasure, Park, Saddle and Harness, Western, Hunter,
and In Hand.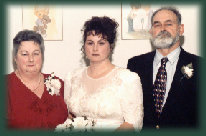 This is my mom and dad, Ed & Marilyn
Novak, the owners of PLF, with me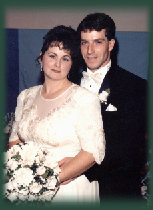 This is me,
Patty Clark,
and my
husband
Jim Clark,
on our
wedding day,
Jan.17,1998.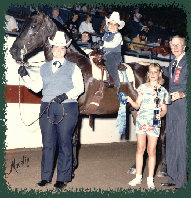 This is my son, Andres Guardiola at 2 years old, with me, winning lead line at the Indiana
All Morgan in 1985.
We chose the name PROMISED LAND FARM, after the Promised Land in the Bible.
We know that God has blessed us with the farm and everything else we have and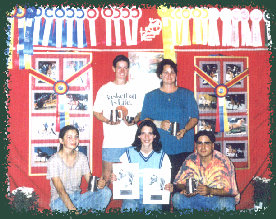 Just one of our happy moments caught on film! What a wonderful show this one was!
Owners: Ed & Marilyn Novak
Owner/Manager/Trainer/Instructor:
Patty Clark
10358 Spencer Lake Road
Spencer, Ohio 44275
(B) 330-667-2565
(C) 330-416-1393


Promised Land Farm
He deserves The Glory FOREVER!
Patty making history in 2003 with
SGF Infinity And Beyond
being the FIRST cream Morgan Horse to show at a Class A Morgan Show!




Thank you for stopping by, come back again for future updates!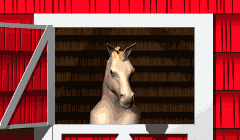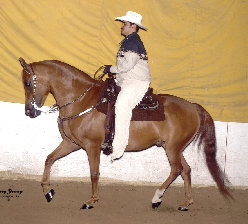 Andres in September 2001, riding his gelding
Cedar Farm Crimson!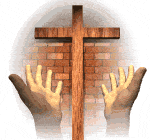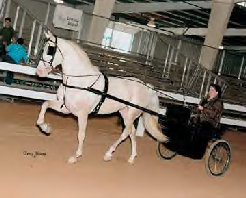 As 2013 begins, we are faced with the decision to sell all of our younger Morgans and only retain the older ones. We are not planning to breed much any more, possibley one foal a year here or there, have sold off all of our show equipment and plan to sell
our 6 horse trailer this year.

With 38 years in the horse business and 36+ in Morgan horses, there comes a time to slow down and just maintain what we have, which is now the plan. With a grand daughter born into the family, and aging parents who own the farm, life changes and all, have caused us to pray and think about the future.

We have decided to keep our beloved eldery horses, our eldest producing broodmare and our stallion, which means one incredibley well bred, beautiful double dilute mare
is now offered for sale.

We want to thank all the people God has brought into our lives, be it for lessons, training, showing, to sell them a horse or sell a horse for them. And we want you all to know, each of you has touched our lives and hearts in ways that have impacted us and who we are. So have the horses, each with their own personality and challenges, but they also molded us and our breeding, show and sales business into what we became known as over all these years.

We are beyond blessed to have had the honor and priviledge to have the horses we have had in our lives.. to have known the people we have known, many becoming life time friends.

God has been good to us and it is our prayer that we honored Him in all that we did
while on this journey.

We will still pop up at a show from time to time.. and you will still see us on the internet, yahoo groups and facebook pages. We are just ready to live life for lifes sake, with horses as a part of it.. not living our entire lives based around the horses.

We will eventually sell the farm and down size mom and dad into a smaller place where dad can still have his chickens and garden. And Jim and I will have a small barn for continuing to stand Buzz at stud, love on our retirees and play with our miniature horses. After all.. you don't have horses in your blood for all these years and go cold turkey!

Please keep us in your prayers, would you? And we will keep you in ours as well.

God bless you and thank you for helping to mold Promised Land Farm
into something to be proud of!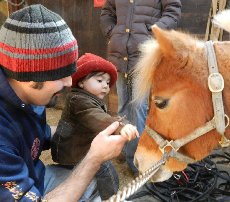 My son Andres and our little angel girl,
Bella, meeting her "pony", Sunny.