Updated
HORSES
PRICES
as of
6-2013
Customized
DVD
AVAILABLE
on ALL horses!
Click on the SEE MORE button for each horse to go to their web page
and SEE more pictures and ON LINE VIDEOS!
SALES LIST
~~~~~~~~~~~~~~~~~~~~~~~~~~~~~~~~~~~~~~~~~~~~~~
~~~~~~~~~~~~~~~~~~~~~~~~~~~~~~~~~~~~~~~~~~~~~~
~~~~~~~~~~~~~~~~~~~~~~~~~~~~~~~~~~~~~~~~~~~~~~
IF you are looking for that special horse OR looking for a buyer for your special horse, PLEASE CONTACT me about options I can offer to promote & sell or find your new horse or best friend!
Amberfields Ice Fantasy
Amberfields Desperado x Up Hy Iron Maiden
2003 cremello mare with star
1 hands
What Icee lacks in physical size, she makes up for with her balanced motion, great hocks, upheaded neck, great hip and typey "baroque" appearance.. sometimes being compared to a mini-Adulusion.

She had a palomino colt in 2007, then in 2011, delivered a cremello colt, but he was too early and couldn't survive.
May 5, 2013 she delivered a gorgeous cremello FILLY who is also FOR SALE.

Offered for sale to the right home only.. I do not want to sell her, but in an effort to continue our down sizing... Icee is on the list..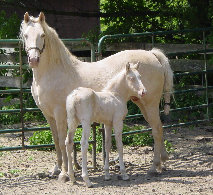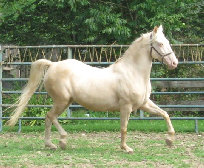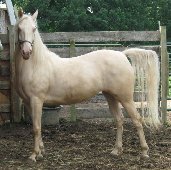 PRICED AT $1800 OPEN
or $2300 with breeding to SFG Infinity And Beyond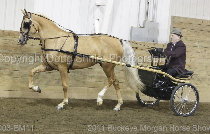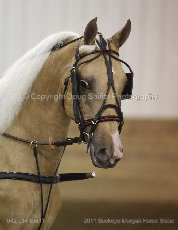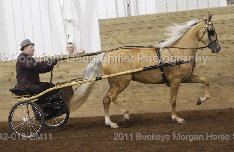 Rosedust Material Girl
SFG Infinity And Beyond x Rosedust Jewel Of Calias
15.1 hand and growing golden palomino 2009 mare
Broke to drive and only a few weeks
in harness, Blondie was shown
for the first time. She, like her full brother
and paternal siblings, has a great head on her
shoulders & loves what she does,
which makes working with her alot of fun
for her owners. She has great bone, good feet & legs, is a solid built girl with the strong rear end needed in all divisions.

Blondie was shown western as a 3 yr old, but we feel she could easily compete in the carriage or hunter/sport divisions, as she is more forward.

If you are looking for a nicely bred, good sized palomino mare for your show string, broodmare band or trail mount, what a super nice youngster you will have in this one!
~~~~~~~~~~~~~~~~~~~~~~~~~~~~~~~~~~~~~~~~~~~~~~
PRICED at $6500
PL Forever N Ever Amen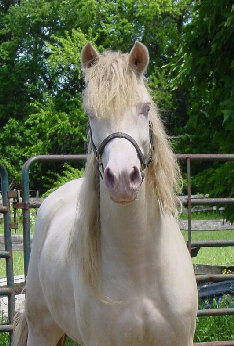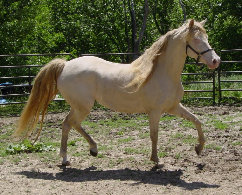 SFG Infinity And Beyond x PL Heaven On Earth
2008 perlino mare (EeAaCRCR)
with star and both hind socks
14.2+ hands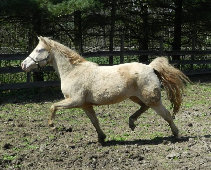 It is with a heavy heart that I offer this lovely mare FOR SALE.
She is the first and only 1 of 2 double dilutes
by our cremello stallion.

We are no longer breeding or showing,
so now is the time to offer this rare gem
for sale to the perfect home.

Her dam is by the WC and producer of
WC and Breeders Sweepstakes winners,
Ultras Special Agent. This is her only foal in the states as
her dam was sold over seas after Evey was born.

Evey requires a gentle calm hand, with alot of patience and
consistantcy. She is very smart, lunges beautifully and
has worn equipment without a care,
but she does not trust just any one.
You have to earn her trust. But with the
QUALITY and COLOR of this beautiful girl..
she is well worth the effort.

If you think she is the horse for you and you have the gentle calm nature to work with her, then please don't hesitate to contact me.

I'd really like her sold sooner than later so she can continue her education or be used for breeding.
PRICED AT $3200
Best Offer from perfect home
~~~~~~~~~~~~~~~~~~~~~~~~~~~~~~~~~~~~~~~~~~~~~~
This foal is the SIXTH of this cross, so all the guess work as to the result has been taken out of the equasion.

As with all the full siblings, this foal will have
a beautiful head with big doe eyes, clean throat and a nice length of neck set on a lovely a laid back shoulder, with a nice croup, strong rear end, good feet & straight legs.
They are athletic, loaded with personality, extremely intelligent and beautiful. They also mature to 15.-15.2 hands.

You simply can't go wrong purchasing this baby, whether for show, breeding or pleasure, it is sure to be a WINNER and outstanding
ambassador of the colorful Morgan Horse!
BUCKSKIN COLT foaled April 15,2013
Hunter... Jumper... Reiner...Western Pleasure...Carriage...Sport... Trail... Best Friend...
PL Infinite Sensation
SFG Infinity And Beyond x Immortal Blessing
CREMELLO FILLY foaled on May 5, 2013
PL Forever My Fantasy
SFG Infinity And Beyond x Amberfields Ice Fantasy
This is the first and only
CREMELLO
sired by SFG Infinity And Beyond. She is also ONLY the
second DOUBLE DILUTE ever sired by him and first ever offered for sale as a foal.
(The only other double dilute is our perlino mare above!)

With Icee's typeyness, her great hocks and attitude,
crossed on Buzz's good looks,
great hocks and the stretch he tends to
give his foals, not to mention their incredible
personalities and how
darn smart they are, we are really
excited about this filly!


"Candee" as she is affectionately called, is a sweet baby girl with loads of personality, motion and type. You cant go wrong combining the blood of some of the top producing colorful stallions in the breed, all in ONE gorgeous filly!
CALL or EMAIL ME NOW as we are NOT breeding mom back this year.. so there may never be another one like her!
SOLD at 3 weeks old!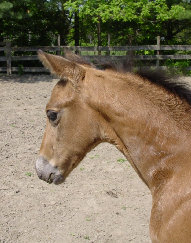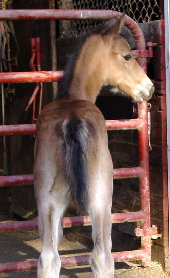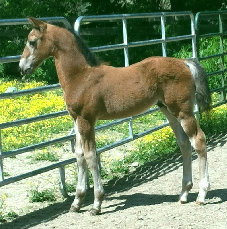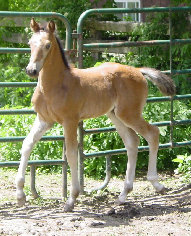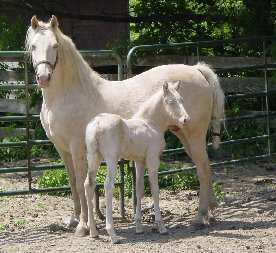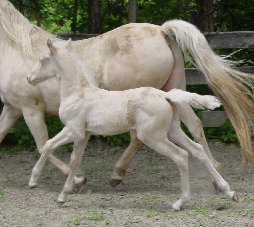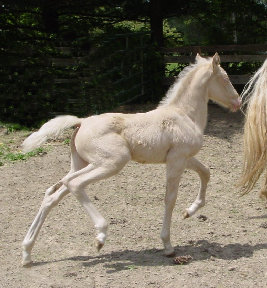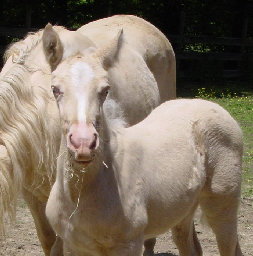 "Candee" is OFFERED for $2800 this spring

~~~~~~~~~~~~~~~~~~~~~~~~~~~~~~~~~~~~~~~~~~~~~~
"Skippy"
AMHA/AMHR Miniature Horse Gelding
Bay, approx 34" tall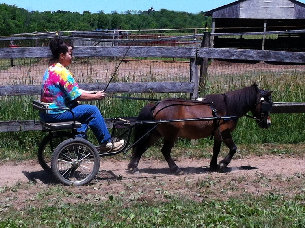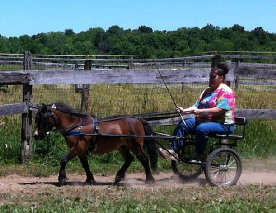 Skippy is alot of fun. He was shown
4H for years, showmanship and trail.
We got him for a client and her family
and they have since decided to get
another riding horse, so Skippy needs
a new home.

I broke him to drive. He needs miles
on him and an experienced or unshakable driver
as he is forward going but needs alot of reassurence
when being hooked and moving off from a whoa.

Would make an adorable "draft type" driving mini!
MUST SELL
SOLD
Easy Entry Cart LIKE NEW $375