SFG Infinity And Beyond
MEMC Tinseltown x Shatona's Empress
This stallion is a RARE CREMELLO Morgan Horse.

His sire, MEMC Tinseltown, is a son of the well known CREMELLO stallion,
MEMC Tequila Quervo, and out of a former natural PARK mare. His dam, "Shatona's Empress" was shown PARK Harness and Saddle in California before becoming a broodmare and her half brother "Shatona's Vindicator" was many many time National Champion PARK Saddle Horse, the winningest PARK horse in the entire history of the Grand National, both of them being sired by the well known palomino stallion, Desert Sands!!!
Buzz is exceeding our hopes and dreams. He is producing exceptional
BUCKSKIN and PALOMINO and SMOKEY BLACK foals.
He stands 15.1 hands, is very correct and pretty, with motion off both ends.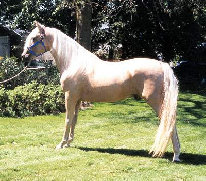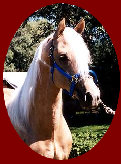 MEMC Tinseltown
at 2 years old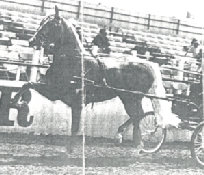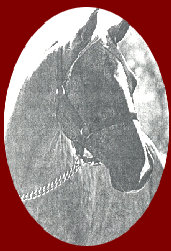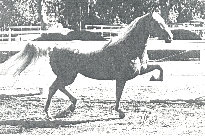 Shatona's Empress
Buzz's dam.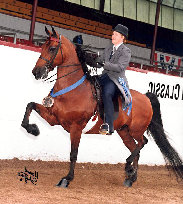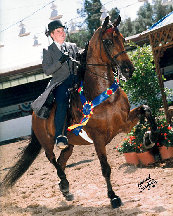 Shatona's Vindicator,
also by Desert Sands!
Proud Owner,
Debbie Uecker Keough.
Buzz's Uncle,
The WINNINGEST Park Saddle Horse
in the ENTIRE history of
the Morgan Grand National!!!
With the incredible show quality, well bred mares that were bred to him, the resulting foals in 2004, 2005, 2006 and 2007, and the incredible daughters of WORLD CHAMPION stallions
bred to him, he is making his mark in the world at a young age.


He bred a limited number of mares in 2003. In 2004, his book was opened to the public, to Approved mares ONLY. He then bred 17 mares, with 14 checked IN FOAL!

In 2005, his book was again open, and we recieved many inquiries, booked and bred many fine bred mares again. MOST conceiving with one cycle!

And in 2006, he bred 13 mares, ALL of which conceived, and only three of them needed a second cycle to get in foal! WOW!

Buzz will not be breeding any outside palomino, buckskin or smokey black mares at this time.

His stud fee is $1200, with a live colorful foal guarantee, (single dilute)
when bred to chestnut and bay mares. If you have a black mare, or a bay mare with a black parent, there is a small chance of producing a "smokey black" foal. Please contact us for more information on this subject. (Buzz did have two gorgeous smokey black foals in 05, a colt and a filly, one out of a black, and one out of a bay with black sire.)

This handsome guy could also produce high white sabino palominos and buckskins,
because of his high white and blaze. His grandsire, "Tequila" has also produced sabinos.

A VERY EXCITING future awaits us and this fine young man!!

We hope you consider breeding for your very own golden foal with
"Quality And Class In Color" !!!
"Coloring your World, one Morgan at a Time."
Scan down and watch me GROW up and see my relatives!!
This is "Buzz's" sire.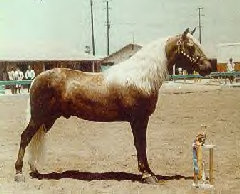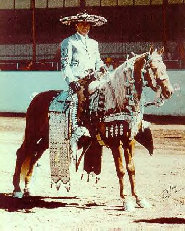 Desert Sands,
Buzz's famous
palomino
grand father!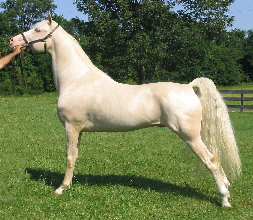 RARE CREAM
Morgan Stallion
Foaled 5-17-01.
blaze and
matching high
hind stockings
left front
coronet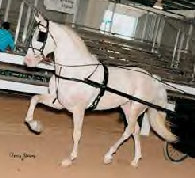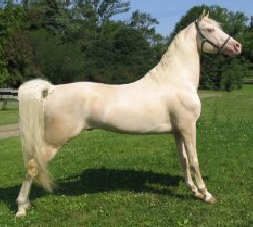 June 28, 2004 at three years old.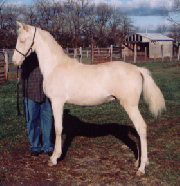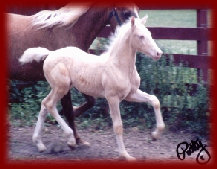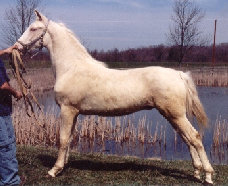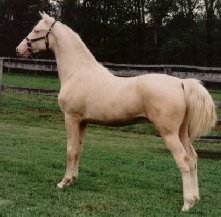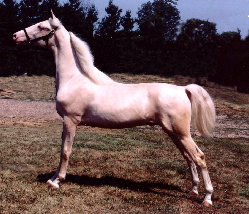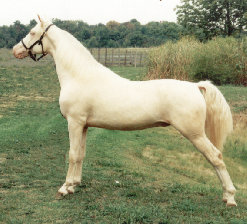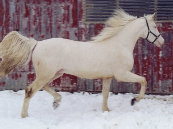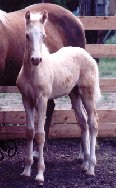 This was on our second visit to see Buzz at one month old.
This picture taken 11-01 at
6 months old.
March 30, 2002 at 10 months old
and his winter coat.
Buzz at exactly one year old,
May 16, 2002.
July 16, 2002 at 14 months old.
Look how he has matured, picture at
16 months old, September of 2002.
July of 2003.


First pics of the new year,
April 2003, at 23 months old.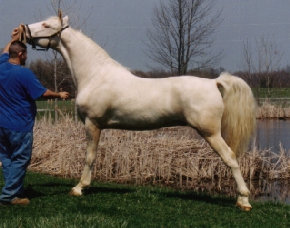 Trotting at 7 weeks old.
February 2003
October 2004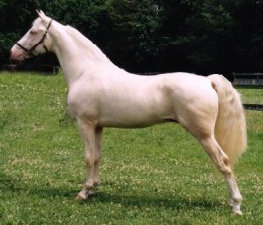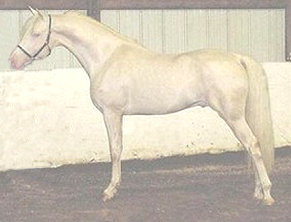 June of 2004.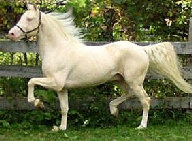 This page has a few different photos on it as well as ones of Buzz as he grew up here, AND his sire, dam and relatives...