1998 rare palomino stallion
"Reggie" has a gorgeous head
and big expressive eyes, an upright
neck, smooth body and balanced
motion, topped off with incredible
golden color!

Even though Rare Gold has been sold,
we are so very proud of our first
colorful PL bred foal!
In 2000, he won Reserve Champion
2 yr. old FuturityPleasureDriving,
Reserve 2 yr. old Futurity In Hand Stallion and was
JUNIOR CHAMPION STALLION
at the Buckeye Challenge in Sept.
This is Reggie's harness debut
and first time off the farm shown
in harness at the Gold Cup
Regional in June 2000.
Angel's Rare Gold
KWood's Golden Eagle x PL My Guardian Angel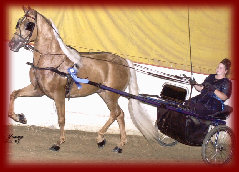 This was his winning drive at the
Buckeye Challenge as a two yr. old.

14.3 hands
Terry Young photo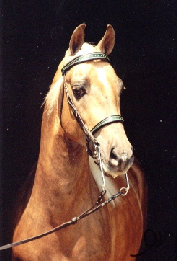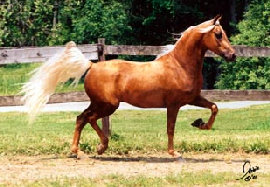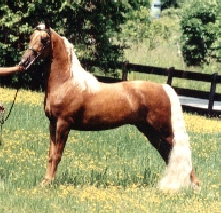 Debbie Uecker Keough-photos
photos
June 2001
Reggie was named
GRAND CHAMPION STALLION
at the KYOVA Morgan Horse Show
in May of 2001!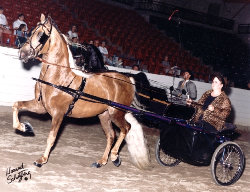 Reggie at the Gold Cup Regional
June 2001
At the Ohio Morgan Futurity in 2001,
He was named 3 Yr. Old Stallion In Hand
and Reserve 3 Yr. Old English Pleasure Horse!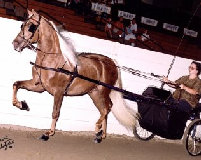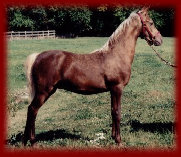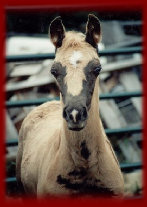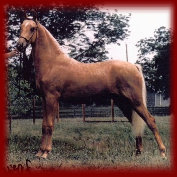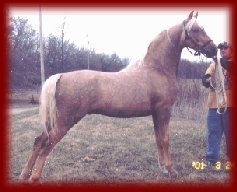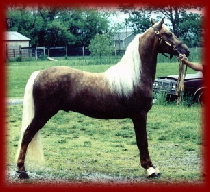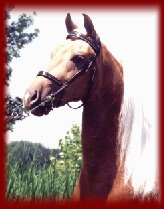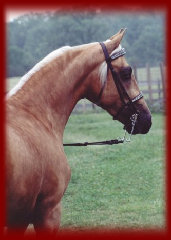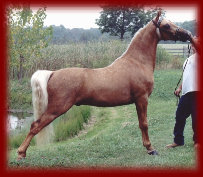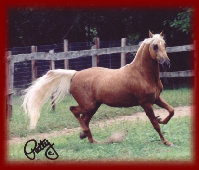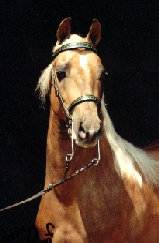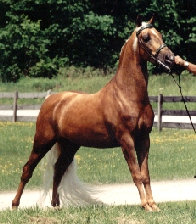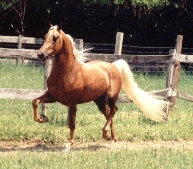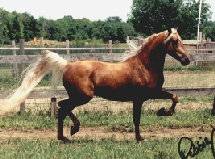 The year 2001, was also his first year at
stud. Reggie was a winner in this area too,
breeding and settling 8 mares in foal,
shipped semen and live cover!
100% conception rate!!!
14 days old
Six weeks! Pretty
silly looking
huh???
Four months old
13 months old
Debbie Uecker Keough pic
Back to being a "golden boy"
at 26 months old
Another color change at 23 months!
These pictures taken in
September of 2000,
by Patty Clark
Spring of 2001, almost
3 years old
Another visit from Debbie Uecker Keough
yeilded yet more awesome results with these pics!!
June 2001.
Rare Gold growing up pictures. From birth to age 4!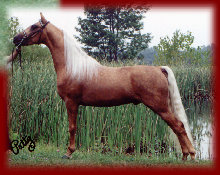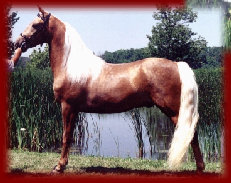 Summer of 2001.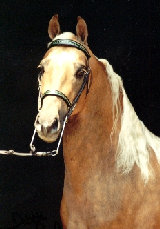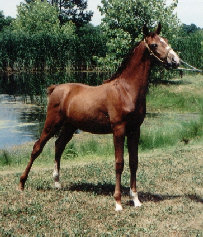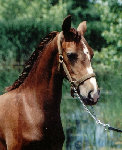 PL Rocket's Red Glare
Pictures at 4 months old!!
Foaled 3-02-02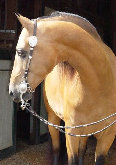 "Hampshire
Bold Endeavor"
Buckskin colt
born 3-02!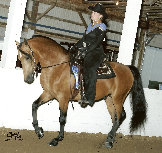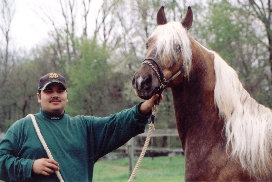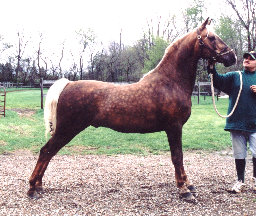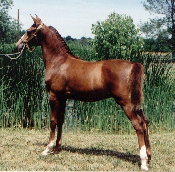 Andres and Reggie.
Patty and Reggie have one last kiss.
We no longer own
Reggie, and to our knowledge he is now
a gelding and being ridden
western.
One last photo shoot.
4-29-02
We are very proud of our very first Promised Land Farm bred "colorful" Morgan!
There is also a palomino filly in California!
"PL Wrapped In Gold"
palomino colt
born 6-7-02
FOR SALE