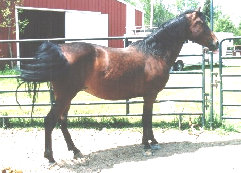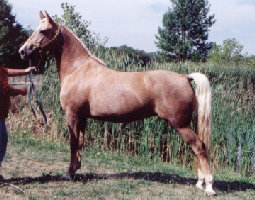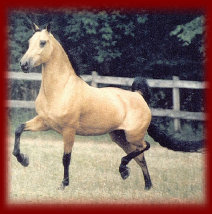 My "Angel's With Hooves..."
"Lizzy" was a once in a lifetime horse, who touched everyone who knew her and made
an incredible contribution to the wonderful
world of colorful Morgans.
PRAIRIE RUN LIZ T
"Allie" was a phenominal broodmare and friend.In her short life she added three world class buckskins to our breed and held on til the very end to give her son in 2004, life.
HALLELIUAH COMMAND
NORTHERLY HALEYS COMET
"Haley" is the most recent angel to enter
the heavenly gates. She leaves behind
five fabulous colorful foals to live on in her
memory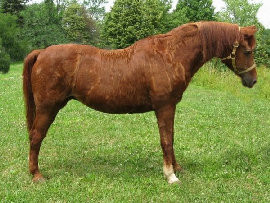 MORGANA JUSTINA
My dear sweet "Hollie." She wasn't a horse, she was my sister. She blessed us being a part of our family for exactly 32 years. Her legacy lives on in her buckskin great great grand daughter that was born the night after we lost Hollie,
PL PRECIOUS BLESSING.
1993-2000
1995-2003
1993-2005
July 13, 1976 - April 12, 2009
Thank you for sharing in our grief, but also in the lives and love of our
special horses. They were with us for a short time,
but we consider ourselves blessed, to have had them at all.

Some come into your lives and go without making a mark, while others
come in and leave hoofprints on your heart, that even time can not erase.

God bless our angels....and until we meet again......
Feel free to share your story of a special hooved angel that touched your life. E mail me at JCPromisedLand@aol.com or
pattyclark@plfmorgans.com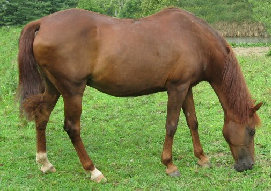 TRINITY GLORY
1986- August 12, 2009
Glory had been with us for 5 years, in which time
she produced two lovely golden palomino foals.
We miss her terribley, but know that laying her to
rest when we did, was the best thing we could
do for her.
"Sly"
March 20, 2011
Sadly... this is our most recent and youngest angel..
He was born too soon and even though we took him
to the hospital.. it wasn't meant to be. Only a few hours
old, we had to say goodbye to our beautiful cremello
colt. Rest in peace little prince... you faught the good fight..
until we meet again....